Although chihuahua puppies are little and adorable, they need the right nourishment to grow strong and healthy. The growth and development of your Chihuahua puppy must be given the appropriate food, in the appropriate amount, at the proper time. In this piece, we'll go over the chihuahua puppy feeding chart, which includes information such as how much food to give your puppy, how often to provide it with food, and what kinds of food to give it.
In this article
Chihuahua Puppy Growth and Weight Chart
Before we move on to the feeding chart, it is essential to have a solid understanding of the typical growth and weight gain patterns for chihuahua puppies. At birth, a Chihuahua puppy should weigh somewhere between 2 and 4 ounces and gain an average of 1 to 2 ounces every week until they are approximately 8 weeks old.
Afterward, they will continue to gain about one to two ounces per month until they reach their adult weight, normally between three and six pounds.
| Age (Weeks) | Average Weight (ounces) | Average Weight Gain (ounces/week) |
| --- | --- | --- |
| 0 | 2-4 | – |
| 1 | 3-6 | 1-2 |
| 2 | 5-8 | 1-2 |
| 3 | 7-10 | 1-2 |
| 4 | 9-12 | 1-2 |
| 5 | 11-14 | 1-2 |
| 6 | 13-16 | 1-2 |
| 7 | 15-18 | 1-2 |
| 8 | 17-20 | 1-2 |
| 9 | 19-22 | 1-2 |
| 10 | 21-24 | 1-2 |
| 11 | 23-26 | 1-2 |
| 12 | 25-28 | 1-2 |
| Adult (3-6 lbs) | 48-96 ounces (Approximate Range) | – |
Importance of a Chihuahua Puppy Feeding Chart
A chihuahua puppy feeding chart is crucial for helping owners monitor their dog's dietary requirements. Due to their rapid metabolism, chihuahuas need frequent meals to maintain their energy levels.
To support their growth and development, puppies require more calories than adult dogs. To ensure their puppies get the right amount of nutrients, owners can use a feeding chart to assist them decide how much and how frequently to feed them.
Chihuahua Puppy Weight Calculator and Growth Chart
You must first know your puppy's weight and age to use a chihuahua puppy feeding chart. You can use a puppy weight calculator to determine how much your Chihuahua should weigh at a specific age.
A chihuahua puppy growth chart can monitor your puppy's development and ensure they are developing at a healthy rate.
Chihuahua Puppy Feeding Chart by Weight and Age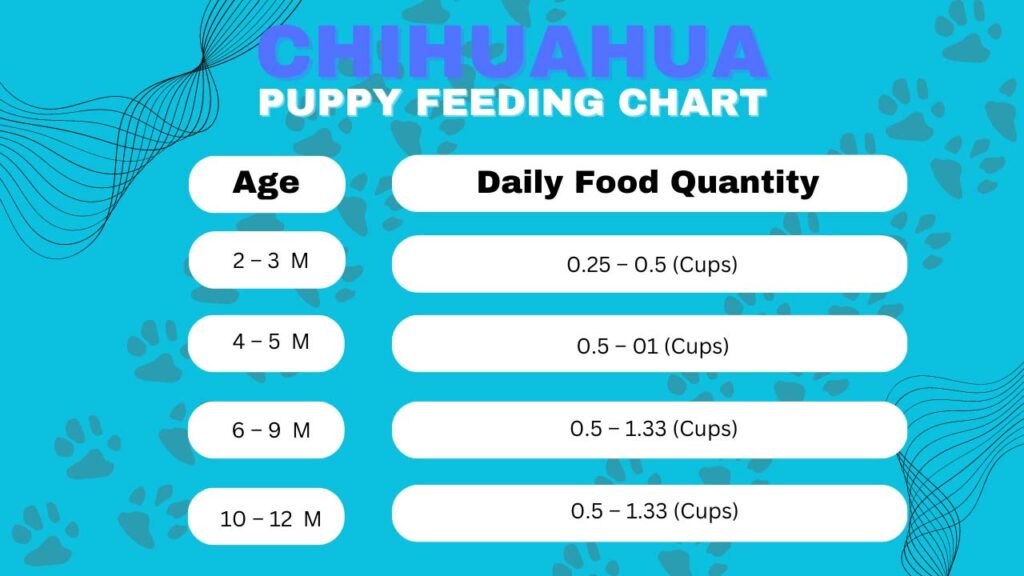 A chihuahua puppy feeding chart is typically based on the puppy's weight and age. For instance, a puppy weighing 2-3 pounds and 8–12 weeks old must eat 1/4–34 cups of dry food three times a day.
The amount of food the puppy needs rises as it develops. A puppy between 13 and 20 weeks, weighing 4-6 pounds, should consume 1/2 to 34 cups of dry food daily, split over two meals.
What Type of Food to Choose for Your Chihuahua Puppy
It is crucial to get high-quality puppy food for petite breeds like your Chihuahua when it comes to feeding your new puppy. Chihuahua puppies have delicate digestive systems and are prone to developing food allergies and intolerances; as a result, it's important to feed them a diet free of common allergens like wheat, maize, and soy.
Check the ingredient list to ensure the puppy food you buy includes healthy fats, vitamins, minerals, and protein sources like chicken or lamb. Fillers and artificial preservatives might be bad for your chihuahua puppy's health, so try to avoid them.
Tips for Feeding Your Chihuahua Puppy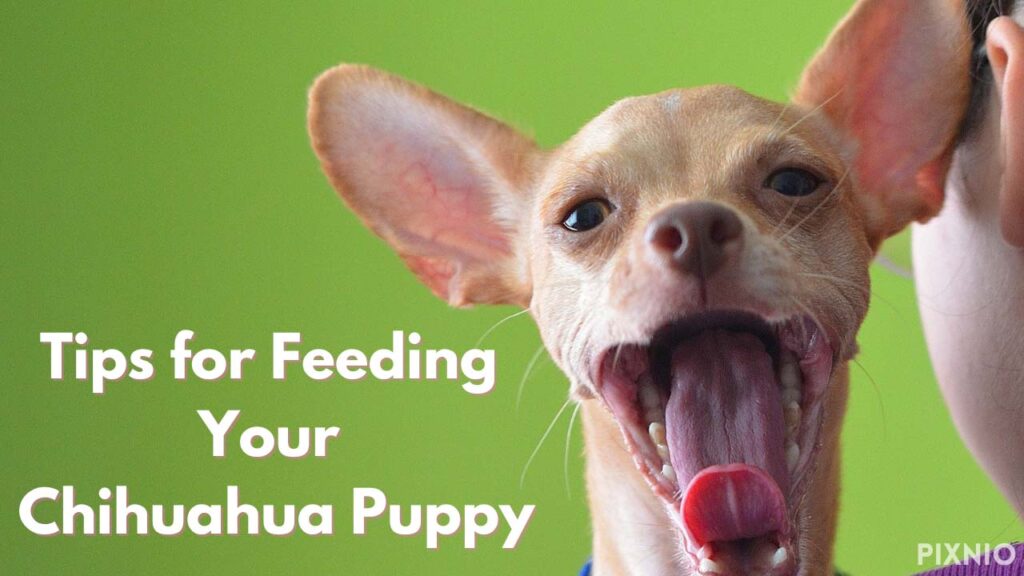 Further information on what to feed your new chihuahua puppy is provided below.
Your puppy needs access to clean, fresh water at all times.
Keeping your dog away from human food and table scraps is important because these things might be hazardous to their health.
It's important to keep your chihuahua puppy's leftover wet food refrigerated and toss it out after a few hours to prevent the formation of harmful bacteria.
Dry kibble is great for puppies, but it's important to find a recipe with small pieces that are easy for your dog to chew and swallow.
If your chihuahua puppy is picky, add some wet food to their dry kibble to add interest.
Final Thoughts
When deciding what to feed a Chihuahua puppy, it's important to consider the breed's specific dietary needs and expected adult weight. To ensure they get the proper amount of food and nutrients for their development, a chihuahua puppy feeding chart by weight and age might be a helpful guide.
Always check in with your vet for up-to-date recommendations on what to feed and how to care for your Chihuahua puppy. A well-fed, well-cared-for Chihuahua puppy will mature into a joyful, active adult.