Due to their size and strength, Rottweilers need regular nutrition at a young age. Providing them with balanced and suitable food for their growth and development is crucial. A rottweiler puppy feeding chart by weight age can be useful since it lets pet owners choose the right food for their puppy.
Everything you need to know about rottweiler puppy feeding charts, including how to use one, the advantages of using one, and the best foods for rottweiler puppies, will be covered in this article.
In This Article
Rottweiler Puppy Growth Chart
Before talking about the Rottweiler puppy food chart, it's critical to comprehend your puppy's developmental stages. Puppies of rottweilers develop quickly, and their food requirements change with age and body weight. A rottweiler puppy weight chart or a weight-based growth chart for Rottweiler puppies is provided below:
As you can see, within the first few weeks of life, the weight of a Rottweiler puppy can double. They usually achieve mature weight between 18 and 24 months, with males weighing between 95 and 135 lbs. and females between 80 and 100 lbs.
A Rottweiler puppy weight calculator is a helpful tool for determining the anticipated weight of a Rottweiler puppy at different stages of development. These calculators predict the puppy's weight by considering details like age, breed, and gender.
Understanding the Rottweiler Puppy Feeding Chart
Now that we understand the growth stages of Rottweiler puppies let's look at a Rottweiler puppy feeding chart by weight and age.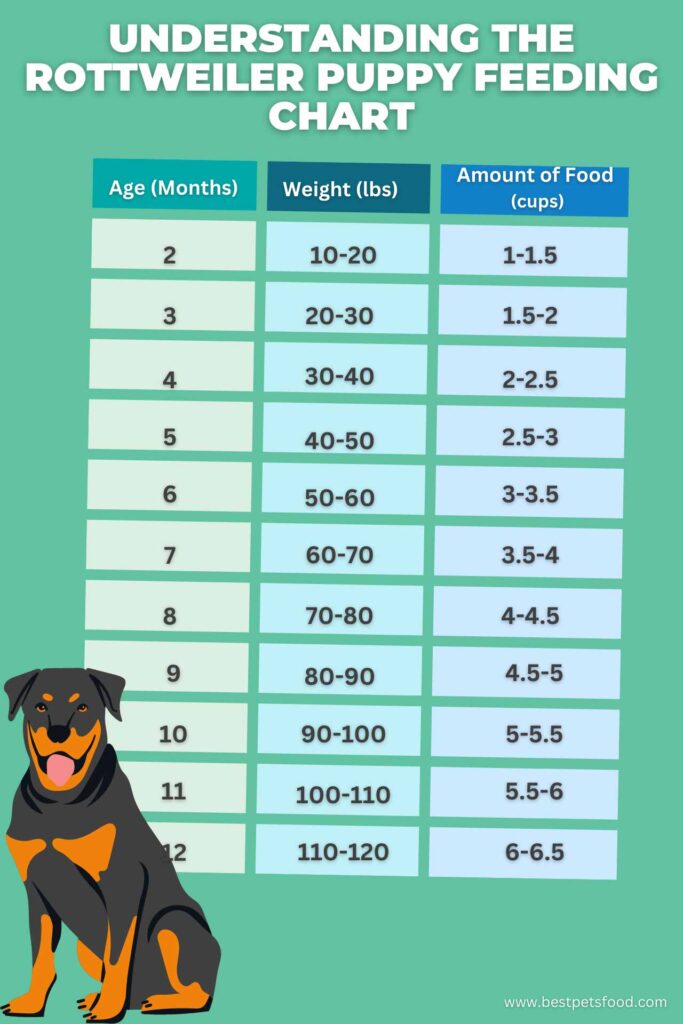 According to a chart, rottweiler puppies should be fed at the recommended rate based on their weight and age. The chart should only be used as a rough guide, as a rottweiler's weight and growth rate can differ greatly.
Pet owners are advised to speak with their veterinarian to ensure they meet their puppy's unique nutritional demands. Here is an example of a rottweiler puppy feeding chart:
6-12 weeks: 3-4 meals per day, 1/2 to 1 cup of food per meal
12-24 weeks: 2-3 meals per day, 1 to 2 cups of food per meal
24-52 weeks: 2 meals per day, 2 to 4 cups of food per meal
Over 52 weeks: 2 meals per day, 4 to 5 cups of food per meal
Using the Rottweiler Puppy Feeding Chart by Weight Age
Pet owners should first weigh and estimate the age of their puppy before using the rottweiler puppy feeding chart by weight age. Based on these variables, the chart offers a recommended daily feeding volume.
To ensure their dog receives the right nourishment without going overboard, pet owners can divide this suggested amount into many smaller meals spread out throughout the day.
Benefits of Following a Rottweiler Puppy Feeding Chart
There are various advantages to using a rottweiler puppy feeding plan for both the pet owner and the dog.
The first benefit is that it aids pet owners in avoiding overfeeding their dogs, which can result in obesity and other health problems. The second benefit is that it guarantees their puppy receives the nutrients required for optimum growth and development. Lastly, adopting a regular feeding chart will help puppy owners with housebreaking.
Tips for Feeding Your Rottweiler Puppy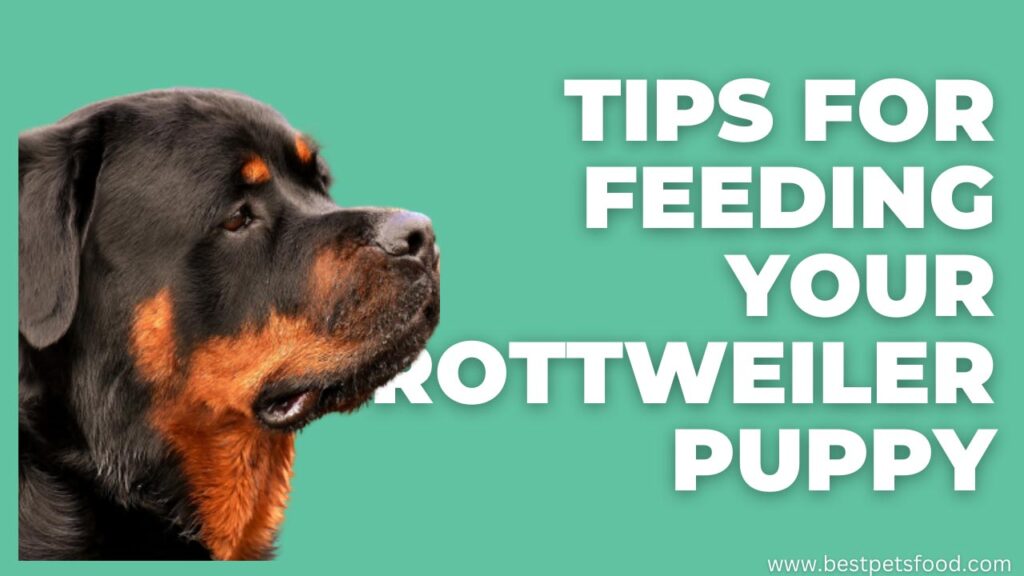 Feed your puppy at the same time each day to establish a routine.
To stop your puppy from eating too quickly, use a slow feeder dish or puzzle feeder.
Avoid giving your puppy table scraps or human food, as it can upset their digestive system.
Always provide fresh, clean water for your puppy.
Consult your veterinarian if you worry about your puppy's food or weight.
Final Thoughts
A rottweiler puppy feeding chart is a crucial tool for pet owners who want to ensure their puppy receives the nourishment it needs for optimum growth and development. Pet owners may help their rottweiler puppy develop into a healthy, strong, and energetic adult by following a feeding plan and choosing the right food.